ANGE & KASUMI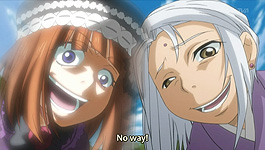 Kasumi is Ange's other aunt, younger sister of Kyrie.
She doesn't love the niece and knowing that she's the only heiress of Ushiromiya's legacy, she tries to kill her, obviously because she wants to become the owner of her money.
In Rokkenjima she destructs Maria's diary, in which the child wrote all her happiest memories, and because of this Ange understands that Kasumi's feelings are the same of Eva, and that if she can't love someone, she'll never forgive him/her. So, now Ange understood all and finally killing Kasumi, decides to forgive her.