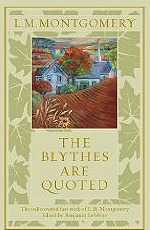 THE BLYTHES ARE QUOTED
The Blythes Are Quoted is a novel completed by L.M. Montgomery near the end of her life as the ninth book in her beloved Anne of Green Gables series. It consists of an experimental blend of short stories, poems, and vignettes, and is divided into two halves: one preceding the events of the Great War of 1914-1918 (World War I)and one relating life after the War (until the beginning of the Second World War of 1939-1945). The short stories, most of which were published in periodicals throughout the 1930s, focus on unrelated characters, but Montgomery rewrote these to include mentions and appearances of Anne and her family. The poems, most of which were likewise published under Montgomery's name, are now attributed to Anne and to Anne's son Walter, who dies as a soldier in the Great War. The novel returns to the characters and setting that are known to readers all around the world, but there is a noticeable shift in tone and topic, given that the book frequently deals with such matters as adultery, illegitimacy, misogyny, revenge, murder, despair, bitterness, hatred, and death. While these elements are not immediately associated with Montgomery's writing, scholars have uncovered the ways in which they are frequently woven into her earlier work.
An abridged version of the book was published in 1974 as The Road to Yesterday, but this version shortened and rearranged the stories and omitted all the vignettes and all but one of the poems. A restored, unabridged edition, edited by Benjamin Lefebvre, was published by Viking Canada in October 2009.