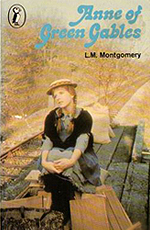 ANNE'S HOUSE OF DREAMS
The book starts with Anne's wedding to Gilbert, which is very small and takes place in the Green Gables orchard. After Anne and Gilbert's wedding, they move to a house that Anne has long anticipated as her "house of dreams", in Four Winds Point, an area near the village of the Glen St. Mary. There, Anne and Gilbert meet many interesting people, such as the eccentric Captain Jim and Miss Cornelia Bryant, who deems the Blythes as part of "the race that knows Joseph." Anne also meets Leslie Moore, who lost her beloved brother and her father, and then was forced by her mother to marry the mean-spirited and unscrupulous Dick Moore. She felt free for a year or so after her husband disappeared on a sea voyage, but then he turned up, amnesiac, brain-damaged and generally helpless. She becomes friends with Anne, but is sometimes bitter towards her because she is so happy and free.
In the middle of the book, Anne gives birth to her first child, Joyce, who dies shortly afterwards [as Montgomery's second son did]. After that Anne and Leslie become closer as Anne is more able to understand Leslie's unhappiness after her own tragedy - as Leslie puts it, her happiness, although still great, is no longer perfect so there is less of a gulf between them.
Later in the story, Leslie rents a room in her house to a writer named Owen Ford, who is the grandson of the former owners of The House of Dreams. They fall in love, only to make Leslie more miserable because she is married to Dick. After a brain surgery which Gilbert proposes, and is considered extremely controversial by both Anne and Cornelia, Dick is cured from his sickness and reveals that he is not Dick, but Dick's cousin, George, who went with him on the trip to Cuba, during which Dick died of yellow fever and the similar-looking George (who is also Dick Moore's first cousin in two ways, by both their fathers [brothers] and their mothers [twin sisters]), suffered a brain injury in the same accident. Leslie is then free to marry Owen and they have a happy ending. Owen finds the inspiration he was looking for in Captain Jim's shipboard diary, and writes a book called "The Life-Book of Captain Jim". While this is going on, Anne becomes pregnant again, and this time the child is born healthy. He is named James Matthew, for Anne's guardian Matthew Cuthbert and Captain Jim.
In the end of the book, Captain Jim dies and Anne, Gilbert, Jem and their housekeeper, Susan Baker, move to the old Morgan house, to the great sadness of Anne. Also, Miss Cornelia makes a startling announcement, deciding to marry a man named Marshall Elliott after he finally shaved his beard.
This book introduces Susan Baker, the elderly spinster who is the Blythes' maid-of-all-work.