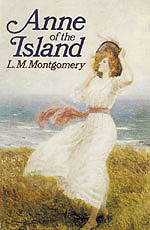 ANNE OF THE ISLAND
Anne leaves Green Gables and her work as a teacher in Avonlea to continue her education at Redmond College in Nova Scotia. Gilbert Blythe and Charlie Sloane are there as well, as are Anne's friends from Queens's College, Priscilla Grant and Stella Maynard. During her first week of school, Anne befriends the lovely and spunky Philippa Gordon, a girl from Anne's birthplace of Bolingbroke, Nova Scotia. The girls decide to set up house in a lovely cottage called Patty's Place, near campus, and center their lives around school, parties, and friends. The girls enter their second year at Redmond happily ensconced at Patty's Place, while life continues in Avonlea. Diana Barry is engaged to Fred Wright and Davy and Dora continue to keep Marilla busy. Gilbert confesses his love for Anne but is rebuffed by a confused Anne. Gilbert leaves, embarrassed and disappointed, and Anne and Gilbert drift apart.
Soon after, Anne's 'Prince Charming' enters her life in the form of Royal Gardner, a tall, handsome Redmond student who showers Anne with attention and affection. After two years together, Roy proposes, but Anne realizes that in spite of his good looks, he is not the man for her. She returns to Avonlea, a "full fledged B.A." but finds that she is a bit lonely. Her childhood friend, Jane Andrews, marries a Winnipeg millionaire, Mr. Inglis and Diana gives birth to her first child Fred Wright Jr. Anne begins to worry that she will never meet her true love, until she gets word that Gilbert is gravely ill with typhoid fever. Realizing at last how much she cares for Gilbert, Anne prays for his recovery and a second chance at love.
Gilbert recovers and after several visits with Anne, proposes on a late summer walk in the garden. Anne happily accepts and the couple share their first kiss.