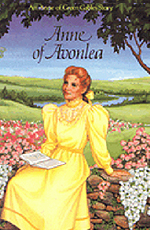 ANNE OF AVONLEA
The book starts by revealing that Anne is to be the teacher of the Avonlea School, although she will still continue her studies at home with Gilbert, who is teaching at the nearby White Sands School. The book soon introduces Anne's new and problematic neighbor, Mr. Harrison and his obscene parrot, as well as the twins, Davy and Dora. They are the children of Marilla's third cousin and she adopts them when their mother dies. Dora is a nice, well-behaved girl, while Davy is a little more of a handful and gets into many scrapes. Other characters introduced are some of Anne's new pupils, such as Paul Irving, an American boy living with his grandma in Avonlea. He delights Anne because of his imagination and childish ways, which are a lot like Anne's in her childhood. Later in the book, Anne and her friends meet Miss Lavender, a nice but lonely lady who had been engaged to Paul's father 25 years before.
Among other things, during this book, Anne discovers the delights and troubles of being a teacher, takes part in the raising of Davy and Dora, and organizes the A.V.I.S. (Avonlea Village Improvement Society), which tries to bring improvements to Avonlea with questionable results, at first.
At the end, Anne and Gilbert go off to college, while Miss Lavender marries her long time engagement, Mr. Irving.
This book sees Anne maturing slightly, even though she still cannot avoid getting into a number of her familiar scrapes, as only Anne can—some of which include selling her neighbor's cow (having mistaken it for her own), or getting stuck in a broken duck house roof.